DISCOUNT RATE ONLY FOR CITY USE
Perodua Axia (A)1.0 or similar
| | | |
| --- | --- | --- |
| 3-6 days rental | 10% Off | RM99/day |
| 7-13 days rental | 15% Off | RM93.5/day |
| 14-29 days rental | 20% Off | RM88/day |
| 30 days above | 50% Off | RM55/day |
Perodua Myvi (A) 1.3 or similar
| | | |
| --- | --- | --- |
| 3-6 days rental | 10% Off | RM117/day |
| 7-13 days rental | 15% Off | RM110.5/day |
| 14-29 days rental | 20% Off | RM104/day |
| 30 days above | 50% Off | RM65/day |
Perodua Bezza (A) 1.3 or similar
| | | |
| --- | --- | --- |
| 3-6 days rental | 10% Off | RM117/day |
| 7-13 days rental | 15% Off | RM110.5/day |
| 14-29 days rental | 20% Off | RM104/day |
| 30 days above | 50% Off | RM65/day |
Proton Saga FLX (A) 1.3 or similar
| | | |
| --- | --- | --- |
| 3-6 days rental | 10% Off | RM117/day |
| 7-13 days rental | 15% Off | RM110.5/day |
| 14-29 days rental | 20% Off | RM104/day |
| 30 days above | 50% Off | RM65/day |
Perodua Alza (A)1.5 or similar
| | | |
| --- | --- | --- |
| 3-6 days rental | 10% Off | RM180/day |
| 7-13 days rental | 15% Off | RM170/day |
| 14-29 days rental | 20% Off | RM160/day |
| 30 days above | 50% Off | RM100/day |
Proton Exora (A) 1.5 or similar
| | | |
| --- | --- | --- |
| 3-6 days rental | 10% Off | RM198/day |
| 7-13 days rental | 15% Off | RM187/day |
| 14-29 days rental | 20% Off | RM176/day |
| 30 days above | 50% Off | RM110/day |
Toyota Hilux (A) 2.5 or similar
| | | |
| --- | --- | --- |
| 3-6 days rental | 10% Off | RM315/day |
| 7-13 days rental | 15% Off | RM297.5/day |
| 14-29 days rental | 30% Off | RM245/day |
| 30 days above | 60% Off | RM140/day |
Toyota Innova (A) 2.0 or similar
| | | |
| --- | --- | --- |
| 3-6 days rental | 10% Off | RM234/day |
| 7-13 days rental | 15% Off | RM221/day |
| 14-29 days rental | 20% Off | RM208/day |
| 30 days above | 60% Off | RM104/day |
Nissan Urvan (M) or similar
| | | |
| --- | --- | --- |
| 3-6 days rental | 10% Off | RM315/day |
| 7-13 days rental | 15% Off | RM297.5/day |
| 14-29 days rental | 20% Off | RM280/day |
| 30 days above | 55% Off | RM157.5/day |
Toyota Avanza (A) 1.5 or similar
| | | |
| --- | --- | --- |
| 3-6 days rental | 10% Off | RM198/day |
| 7-13 days rental | 15% Off | RM187/day |
| 14-29 days rental | 20% Off | RM176/day |
| 30 days above | 55% Off | RM99/day |
Toyota Vios (A) or similar
| | | |
| --- | --- | --- |
| 3-6 days rental | 10% Off | RM198/day |
| 7-13 days rental | 15% Off | RM187/day |
| 14-29 days rental | 20% Off | RM176/day |
| 30 days above | 55% Off | RM99/day |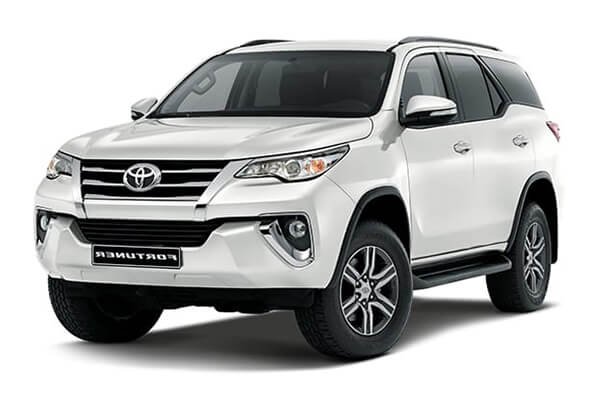 Toyota Fortuner (A) or similar
| | | |
| --- | --- | --- |
| 3-6 days rental | 10% Off | RM540/day |
| 7-13 days rental | 15% Off | RM510/day |
| 14-29 days rental | 20% Off | RM480/day |
| 30 days above | 65% Off | RM210/day |
Toyota Camry (A) or similar
| | | |
| --- | --- | --- |
| 3-6 days rental | 10% Off | RM450/day |
| 7-13 days rental | 15% Off | RM425/day |
| 14-29 days rental | 20% Off | RM400/day |
| 30 days above | 65% Off | RM175/day |
Toyota Vellfire (A) or similar
| | | |
| --- | --- | --- |
| 3-6 days rental | 10% Off | RM810/day |
| 7-13 days rental | 15% Off | RM765/day |
| 14-29 days rental | 20% Off | RM720/day |
| 30 days above | 65% Off | RM315/day |
Get Quotation
For Drop Off Different Place
About Us
CLL Rental & Tour  is a local car rental company that provide transportation services.. Your needs solution which help you to plan your transportation in advance for you vacation at Sandakan & Kota Kinabalu, Sabah.
We are realiable real human who can help you personalize your needs of self drive car rental services with the best price.
There is to be a better way to plan your trip vacation with quick, easy and secure. Book early your transportation with us, save your time, save hassle and have a peace of mind during your arrival.
Let's us  help you and get the job done in advance.
Bandar Utama IJM, A1,3rd floor, Lot 3, 90000, Sandakan Sabah
D27-1, 1st Floor,, Cyber Perdana Commercial Centre, Lintas Penampang Road, 88300 Penampang, Sabah